Kampōmed
Regular price
$77.00
Sale price
$41.00
Unit price
per
Sale
Sold out
The FemaleFollicle+• is a tailor-made solution for hair loss, specifically designed for the unique hair structure of women. With a potent mix of caffeine, eugenol, and sole, it aims to activate the hair roots and stimulate new, natural hair growth.
Anti-Inflammatory Power of Eugenol
Eugenol, a potent component in the active ingredient complex, mitigates inflammation triggered by various styling techniques, aids in balancing the disrupted hair cycle, and counteracts gender-specific hormonal imbalance in women.
Effective for All Ages and Hair Types
Navigating through the different stages of life, women can experience hormonal changes that disrupt the hair cycle, leading to hair loss. Thanks to its optimally compounded active ingredients, FemaleFollicle offers a solution that's suitable for all women, regardless of age or hair type.
100% Satisfaction Guarantee
Customer satisfaction and long-term customer loyalty are important to us. Should you ever be dissatisfied with our products, we are always available to address your concerns. Try it now, risk-free.
View full details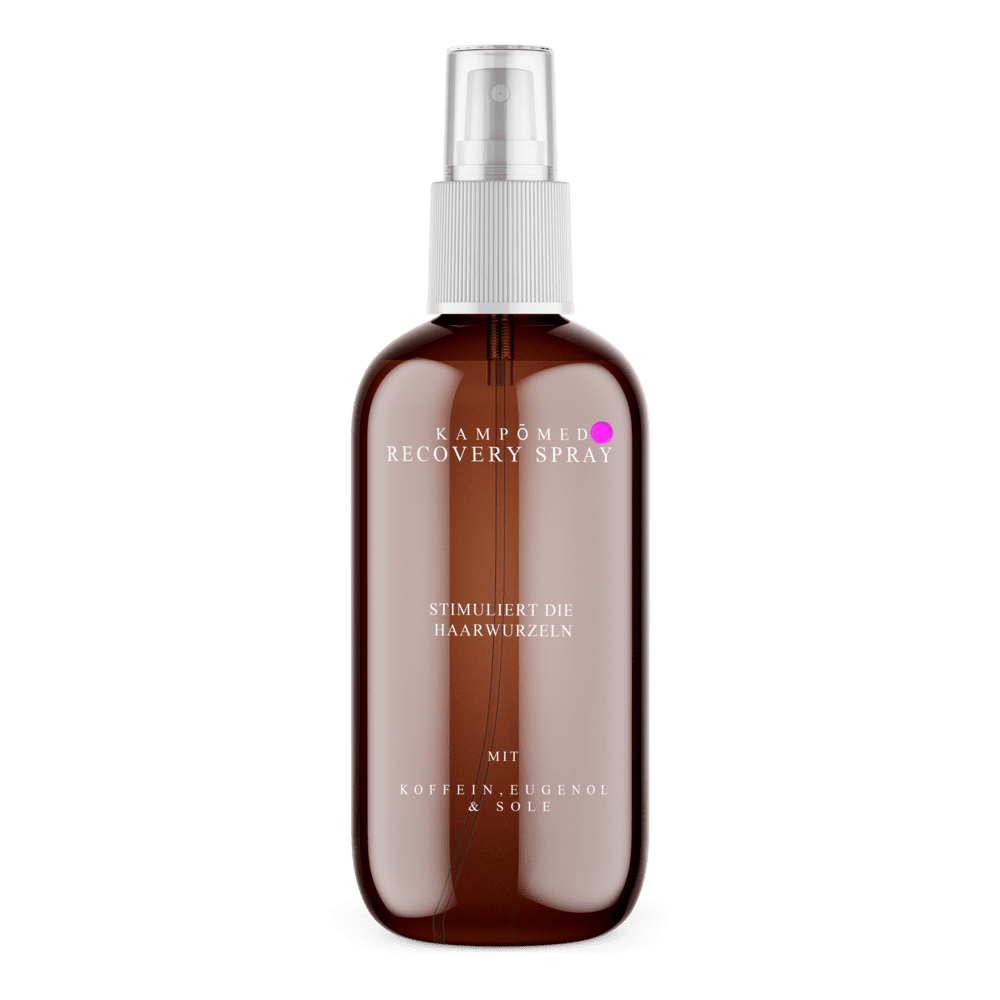 Caffeine

Caffeine activates the hair follicle and promotes hair growth by acting on the hormone DHT, which causes hair loss. With the help of caffeine, hair regrows thicker and healthier.

Eugenol

Eugenol inhibits the spread of aggressive viruses and has anti-inflammatory properties. Moreover, this active ingredient stimulates skin blood circulation. As such, it can support the blood supply to the hair and strengthen the hair's anchorage once again.

Brine

Brine has a rejuvenating and refreshing effect on the scalp. Due to its strengthening and anti-inflammatory impact on the hair root, it further promotes hair growth.
HAIR REVITALIZATION GUIDE
Instructions for Use

For optimal results and a continuous supply of nutrients, the Recovery Spray should be massaged into the scalp twice a day using circular motions. The active ingredient complex begins to penetrate and activate the hair roots after the first application. Do not rinse after application to allow the ingredients to fully affect the hair follicles.
Duration of Use and Expected Results

As customer testimonials confirm, the first results of the Recovery Spray are often visible within a few weeks of regular use. To effectively prevent hair loss and promote sustainable hair growth, it's recommended that the spray be used regularly over a longer period. Hair roots are subjected to daily stress and need continuous nutrient supply and care for optimal regeneration.
No Side Effects

All KAMPŌMED products comply with European regulations and are made in Germany. The Recovery Spray consists only of natural ingredients without chemical or hormonal additives, making it side effect-free. Additionally, it is vegan and cruelty-free, reflecting our commitment to ethical and sustainable practices.
Ingredients

Aqua, Isopropyl, Alcohol, Sodium Chloride, Glycerin, Polysorbate 20, Caffeine, Parfum, Panthenol, Benzyl Salicylate, Linalool, Alpha-Isomethyl Ionone, Citric Acid, Geraniol, Benzyl Benzoate, Eugenol, Isoeugenol, Sodium Sulfate, CI 47005, CI 61570
GENERAL STUDY
Untreated hair loss can lead to a progressive decrease in hair density. This was explored in a study by Kim et al. (2011), which observed changes in hair density in patients with androgenetic alopecia over a period of four years. The results demonstrated that for most patients who did not receive treatment, hair density continued to decrease.
Study: Kim, H. J., et al. (2011). Changes in hair density and size of terminal hair follicles in patients with male pattern hair loss treated with finasteride: Evaluation by phototrichograms. Journal of Dermatology, 38(6), 581-586.
JAPANESE HERBAL MEDICINE
Inspired by Japanese herbal medicine, we create our natural products in an environmentally conscious way, without synthetic additives, to merge health and beauty with Kampō medicine.